H&K USP Compact 45 ACP 3.8"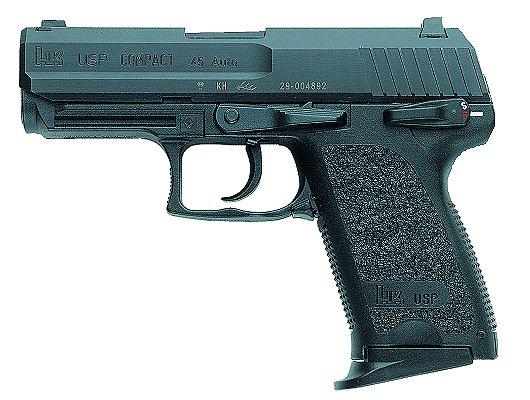 Currently Unavailable
MSRP

$1,04900

Restricted
Product Notice
H&K USP Compact 45 ACP 3.8" 8+1 Modular Synthetic Grip Black
The HK USP Compact is a small frame pistol capable of firing the most powerful cartridges. Based on the full size USP models, these handy pistols combine compact size with optimum effective shooting performance. The reduction in trigger reach and grip circumference increases concealability and enhances shooting ergonomics. Unlike some subcompact semi-automatic pistols that use a difficult to shoot two finger grip frame, the USP Compact uses a narrow, full hand grip frame. Easy to shoot, simple to maintain; the USP Compact is a reliable, safe, accurate and highly concealable pistol. Variant 1 Double action/single action with "Safe" position. Control lever (manual safety/decocking lever) on left side of frame.
Item Info
| | |
| --- | --- |
| Item | Available In Store |
| UPC | 642230244559 |
| Brand | Heckler & Koch |
| Model | USP45 Compact (V1) |
| Mfg No | 704531A5 |
| Caliber | .45 ACP |
Tech Specs
| | |
| --- | --- |
| Type | Pistol |
| Action | Single/Double |
| Barrel Length | 3.8" |
| Capacity | 8+1 |
| Safety | Manual |
| Grips | Modular Synthetic |
| Sights | 3-Dot |
| Weight | 1.76 lbs |
| Frame Finish | Black |
| Slide Description | Blued |
| Case Type | Hard Plastic |
| Purpose | Personal Protection |
| Series | USP Compact Pistols |
| Finish | Black/ Nitro-Carburized Finish |
| Stock | Balck Polymer |
| Overall Length | 7.09 |
| Features | Variant 1/ Oversized Trigger Guard/ Ext Slide Rel |